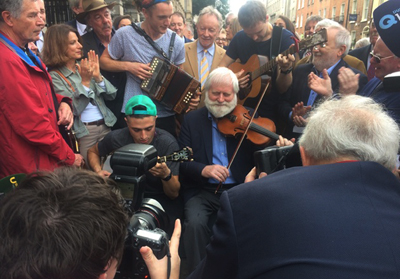 Labour's Willie Penros wants to get more Irish music played on the radio – and says that a proposed bill of his could save thousands of jobs in the process. So he gathered up a group of Irish musicians and brought them for a sing-song outside the gates of Leinster House this morning, while a host of Labour TDs looked on. Phil Coulter, Johnny Duhan, John Sheahan, Sibéal Ní Chasaide, and the Doyle sisters were among those who belted out a song as Labour's Alan Kelly, Ged Nash and Joan Burton watched.
Longford-Westmeath TD Penrose, who is presenting the bill to the Dáil today, said that it seeks a quota of 40% airtime for Irish music – and that this means "of all genres once it's Irish music". Asked if it specifies in the bill how a song is determined to be Irish, Penrose "we're working through that, yeah we are". "We are not asking for much – this has been in France for the last 20 or 30 years, 40% quota, it's in Canada – there's a 90% quota after being introduced in South Africa in recent weeks," he said.
The 90% quota was brought in by national broadcaster SABC in South Africa. Penrose said there are "8 – 10,000 jobs depending upon [the bill]", but didn't detail where these jobs are located within the Irish music industry. He had previously said: Thousands of the finest Irish musicians are being excluded from our airwaves simply because we have allowed ourselves to be steered by musical trends and fashions constructed primarily in the US and Great Britain.
In Canada English-language and French-language stations much ensure that at least 35% of the popular music they broadcast each week is Canadian content, while commercial radio stations also have to make sure that at least 35% of popular music broadcast between 6am and 6pm Monday to Friday is Canadian.
There are also quotas for special interest music, native radio stations and ethnic radio stations. Penrose said that there is a big appetite in Ireland for country and western music, as evidenced by the recent country and western music awards, and the popularity of musicians such as Nathan Carter.
He said that he is the chairman of a local comhaltas group, which has 300 members. "Why are the stations not playing that traditional music?" he asked, saying that radio stations should give groups "a chance". "What happens is as those great folk and traditional singers move on and musicians move on and artist and composers, there'll be nothing left very soon," he added. He claimed that some radio stations are opposed to his idea, and that he is not happy about that. "If they say they are playing their quotas, they have nothing to be worried about. This is only putting it on statutory footage what they are doing," he said. They should be getting their licenses on the basis of at least 30% [quota], they are not getting within an ass's roar of it, our people can verify it.
Musician and composer Phil Coulter said that the bill would benefit young musicians in Ireland. "For a whole new generation of talented kids in this country I despair of what's in store for them," he said, adding that the music industry in Ireland "is already in decline and it is going to get worse". "It's not good enough to leave it up to the radio stations because they've proven they won't play Irish music and that's a fact," said Coulter. "It has to be inscribed in law, it has to be legislation." Coulter said that "there are musicians now that can't make a living" and that: We badly need some intervention, otherwise the slide is going to continue and these young kids here are going to find it very difficult. John Sheahan of the Dubliners said that Irish music has "much wider parameters than people think". "I think we're coming to the right place and talking to the right people to make it happen," he said as the group prepared to head into Leinster House.
Deputy Penrose said that he believed the partnership government could help make his bill a reality. "If this new politics means anything, it means we will stand up for our culture, a distinctive culture and a rich language of music, we'll stand up for it in here – and I think the new politics will get us on the road to ensure this bill becomes a reality."