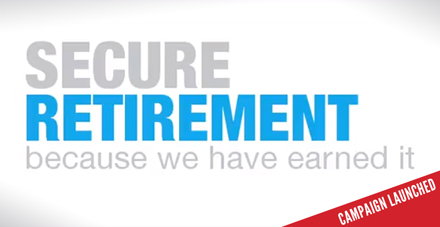 Politicians told to fear the 'grey army' at launch of Secure Retirement campaign on Wednesday, 30th April in Liberty Hall, Dublin 1. A YouTube video was premiered which includes interviews with retired workers on the challenges they currently face and their previous working lives.
Launching the campaign, SIPTU General Secretary, Joe O'Flynn, said: "After a lifetime of work, people should look forward to a retirement with respect and dignity. But increasingly workers above a certain age are facing the prospect of approaching retirement in fear and anxiety concerning their expected pension income and uncertainty surrounding the future cost of living, healthcare and public services, all of which effect their quality of life in their retirement years.
He added: "The battles you have fought, the stands which you have taken serve as signposts for the next generation of union activists. As workers and as citizens, you have earned the right to a secure retirement."
Retired nurse and SIPTU activist Helen Murphy said: "Many elderly people are fearful in their own homes with cutbacks in Garda numbers and the end of the phone allowance, they felt isolated. Many are also concerned about the changes in the health service with talk of universal health insurance, the loss for some of medial cards and the continued cuts in the public health system."
Among those who addressed the launch was Equity activist and Fair City actor, Tom Jordan.
He said: "I hope this campaign scares the living daylights out of the politicians in this country. They are constantly telling us there are too many pensioners and we are a drain on the national coffers, which is a load of rubbish.
"We are not a drain; I've been working 64 years and I am still working and paying taxes. There are a lot of us out there and we all have a vote and we are going to use that vote. We are a rich county and we can afford to look after our old people, not out of charity but because we have earned it. The grey army is on the march.Let the politicians know that."

Watch the video