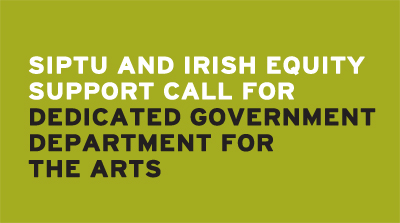 SIPTU and Irish Equity support call for dedicated government department for the arts
Irish Equity and SIPTU have endorsed a statement issued by the National Campaign for the Arts which calls on the Government to create a Department dedicated to the arts, culture and heritage.
The call follows the announcement by the Government that it intends to place the arts along with rural affairs and regional development in a new Department.

SIPTU Arts and Culture Sector Organiser, Karan O'Loughlin, said: "The decision by the new Government to downgrade the importance it places on the arts is especially tragic given that the recent commemoration of the 1916 Rising which has re-emphasised the critical role of actors, poets, writers and artists of all descriptions in the creation of our republic.
"The new Department of Regional Development, Rural Affairs, Arts and the Gaeltacht has just too broad a brief and the emphasis on the arts will be a significantly diminished within it. SIPTU supports a petition, which has already been signed by almost 10,000 people, calling for the creation of a Department of the Arts, Culture and Heritage as well as the #ArtsDeptNow campaign on Twitter."
She added: "Irish cultural institutions suffered significantly during the recession. The annual budgets of the majority of our cultural institutions experienced cuts of around 40% in recent years. There was a further €16 million reduction in government funding for arts, culture and film between 2011 and 2014. There is a need for a renewed focus by the Government on this sector if it is to recover fully form these cuts.
"There are in excess of 25,000 people directly employed in the arts in this country. Ireland is known globally for the creation of great art and this and our heritage supports thousands more jobs in tourism. Proper funding could also develop a world class film and television industry in Ireland which would further support the indigenous live performance sector.
"We are calling on the Government to create a dedicated Department of the Arts, Culture and Heritage that would ensure that the full social and economic benefits possible are derived from this sector."